Moonlight Mile Herb Farm is dedicated to the practice of organic farming and the use of other age-old practices that once sustained life while nuturing the earth. Our farm's mission is to preserve and restore our wild native herb plant population by re-introducing those plants to our local area and educating others to do the same. To raise free-range birds with methods that are natural to their health and well-being. To provide a safe and nourishing haven for all animals that may reside here, domestic or wild, so that they, along with the plant people, may have sanctuary to reveal their magical teachings.
~ Susan Burek, herbalist, proprietor & caretaker of MMHF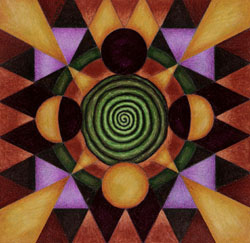 The spiritual mandala was painted for Moonlight Mile Herb Farm by gifted healer Ruthie Basham who resides in Ann Arbor, Michigan. The roots of the mandala lie in the East, but every culture holds some form of the mandala. It is usually portrayed as a symmetrical image with a central point of focus. It is used for meditation, sacred ritual, and healing. Ruthie is a facilitator for the sacred symbols, colors, and energies which flow through her to assist the recipients of each mandala. She creates personalized logos and healing mandalas for the abundance and success of a spiritual business, or for the unique healing and ascension of the individual.